HOT TIPS from JetSki Solutions
Hot Tip #1: Relay/Relay Terminal Kit Installation Pointers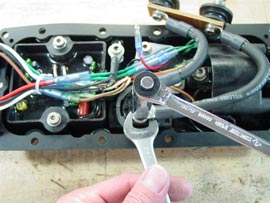 When tightening your relay nuts, be sure to first tighten the nut below the first nut, so the contact post is tight in the plastic body.
FYI, there is an O ring under the first nut and washer to maintain a water tight seal, should the box be flooded with water.
Make sure all corrosion is removed from hardware and post, if present.
If installing a JetSki Solutions relay terminal relocation kit on a Yamaha box, turn the relay as shown.
Use a new lockwasher, or Loctite
Hold relay with a 13mm open end
Final nut should be tightened with 1/4 drive or small open end as shown....don't use an adjustable wrench!!
Hot Tip #2: Yamaha Electrical Box (E Box) Cover Screws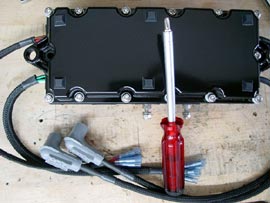 Use a proper, tight fitting, number 3 Phillips bit.
Diamond grit bits work very well
Don't use a power driver....tighten by hand in a crisscross pattern
When putting screws in holes, try to start them back in the same thread pattern instead of letting the fastener cut new threads in the cover, which will lead to stripped holes.
Always use a new Yamaha rubber gasket.....do not over tighten