STATOR RESTORATION SERVICE >
Kawasaki 750SX 750sxi 750ss stator remanufacture service REMOVED FROM COVER
JetSki Solutions only uses the highest grade materials for stator remanufacturing. Many of the materials are manufactured to our specifications. All known modes of failure are addressed.

Bottom line:

Our stator services are the best value for your money! AND provide better performance!

---
Kawasaki 750SX 750sxi 750ss stator remanufacture service REMOVED FROM COVER

Price: $290 and includes complete install it

Your remanufactured stator will perform better than stock. Starting and idle performance are improved. Complete Install parts kit included with new stainless hardware, inspection cap and ebox cap O rings, caps, wire seals, plastic connector parts,
---
First class, high quality stator restoration you can rely on, year after year. All wiring materials used have ratings that SIGNIFICANTLY exceed original equipment specs. Additional windings on exciter coil provide improved starting, idle and off the line performance. The three common modes of failure for this family of stators has been eliminated in our special winding, termination and epoxy saturation process.

To be a candidate for restoration, the stator must be OEM Kawasaki and have NO damage to the battery charging coils portion or black plastic part. If you are in doubt, please send a photograph for evaluation Crank position sensor replacement not included.

New hardware, wire seals, ebox connector set, cover O ring, inspection cap O ring and electric box O ring are included to properly install your stator. BE CERTAIN to clean hardware and all female threaded holes with suitable degreaser and use red Loctite.
K 750 stator restoration , removed from cover, $290.00
---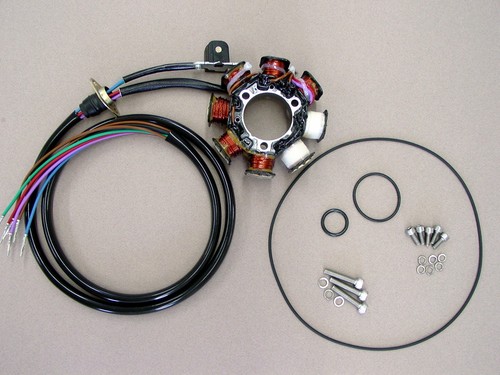 Kawasaki 750 Stator - after remanufacture